Your Lore Chapter 6: Dan "Lebo" Lebowitz
Your Lore Chapter 6: Dan "Lebo" Lebowitz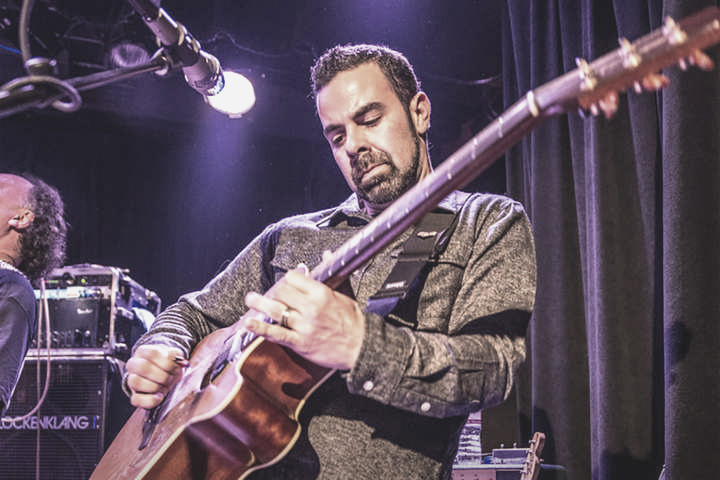 In this week's edition of "Insider trading with R. Reinhold Genevere IV (Quad)," we explore the articulate and piercingly personable talents of Dan "LEBO" Lebowitz," lead guitarist of the Animal Liberation Orchestra (ALO), singer-songwriter, and pedal steel power house. Dan is one hell of a musician, one hell of a good human and as you'll see in this interview, one hell of a good subject for interviews. LEBO offers really insightful thoughts about his approach to music, his prolific career and some endearingly vulnerable nuggets about his many musical roles including being a sideman for Phil Lesh and Jack Johnson #Badass. Please make welcome my mustache rockin' friend LEBO on lead rock guitar(s). - Reid
Reid: When and what drove your musical awakening? When you were like kablam "I want to do this"?
Lebo: I actually have a clear memory of this moment. I was a Jr. in High School and was sitting in the audience of the Senior Graduation. During one of the speeches, the speaker asked "What do you want your life to be about?" And then she said something to the effect of, "You get to write the script." While up to that point, I had been obsessed with music, and was playing a ton, I hadn't actually been able to envision myself as a musician. Then suddenly, in that moment, it hit me like a ton of bricks. I'm already what I am - a musician!
Reid: You'r a gifted musician. I primarily know you as guitarist, pedal steel player and singer songwriter. Do you feel most comfortable in one role over another?
Lebo: It's hard to separate those things, because to me it's all just one "blurred lines" form of expression. I sense that my primary identity is as a guitar player. Of all the aspects of music, it's the one I've been doing the longest, and it really just all comes back to there at some point. That said, for me to be in my "happy place", my life has to have a balance of all those things.
Reid: Why do you think you gravitated to guitar and pedal steel as go to instruments ?
Lebo: Pete Townsend!! When I first started, in 7th grade, I loved The Who. Pete's guitar playing and writing totally hooked me! Then, a few years later (while in High School) a friend gave me a lap steel. I had always been pretty mystified by that Santo and Johnny tune "Sleep Walk", so that's where I started.
Reid: How similar are they to play do you have to think differently to play them?
Lebo: More and more it's becoming a situation where I don't have to think differently. For a long time, it was like I totally needed to reprogram myself whenever I sat down at the steel. I saw the steel from the perspective of a guitar that needed to be translated. Now days, it's to where I don't need to translate. I can just take the ideas straight from my mind to the instrument.
Reid: How did you learn to play? Self taught lessons school all of the above?
Lebo: I feel like any good musician has to be self taught. I was lucky enough to have a weekly lesson when I first started, but pretty quickly, it just became supplemental to my own interests and path of discovery.
Reid: When you play guitar you primarily play an acoustic with a shit ton of gear, much of which is designed primarily for electric guitar. Why do you do that vs just playing an electric?
Lebo: I guess i just don't know any better. Ha! Honestly though, I'm just looking for the path of least resistance to get the ideas from my head out into the air. I'm so comfortable on this guitar that it literally pulls the ideas out. I don't want to just play a bunch of licks, I want to tell a story.

Reid: You have a distinct voice as a guitarist. Do you think the choice to play an acoustic and your work on pedal steel effects your melodic/harmonic choices and how?
Lebo: Yeah, definitely. To me the idea of having a unique guitar voice is of highest importance. Second only to it being a "good voice," but actually a very, very, very close second.
Reid: I know you've played in or with a zillion bands/artists. ALO is obviously the "foundation." First love so to speak. Are there other "steadies" I'm missing?
Lebo: ALO, Jack Johnson, Phil Lesh & Friends, Lebo and Friends, The Doobie Decibel System, Rock Collection (with Melvin Seals/Greg Anton/Stu Allen/JP McLean)
Reid: How did ALO come to be and what's your affinity with Jack Johnson ?
Lebo: ALO goes way back. Zach, Steve, and I started playing together in 7th grade. By Sophomore year of High School, we were writing our own songs, and have been going strong ever since! We met Jack Johnson at UCSB and pretty quickly developed a mutual respect for our different, but simpatico styles. He used to come sit in with our band and we'd back him up on some of his tunes - he always wrote great tunes, even from the start. Over the years we developed a great relationship, which has led to him producing an album, and us joining him at shows from Madison Square Garden, to arenas in Brazil.

Reid: How do you experience playing your original music - your songs, vs supporting someone else's?
Lebo: I've found that for me to be happy, I need a lot of both of those things. Obviously, I love playing my original music. It's the most near and dear to me, and therefore, the most representative. However, when I'm just doing that, I can sometimes get bogged down by all the non-musical stuff like band meetings, strategy decisions, etc. While I've been fortunate to have great management, in the end, the artist has to be cool with the decisions, and therefore really involved. That's where the sideman thing comes in. The downside to that roll is that I have less control over the artistic direction, etc, and therefore, won't get all of my interests represented. But, in a way, from the guitar / steel playing perspective, it's more pure. As a sideman, my job is to just play great guitar, and have a good vibe. I don't have to worry about the big picture stuff. I should say, that this is a balance I'm always finessing. I really appreciate both roles, and to be happy, I need a good dose of both.

Reid: Did you know the Dead's music before you performed with Phil and Friends? Were you intimidated when you first started getting the nod?
Lebo: I actually only knew a few Dead tunes before playing with Phil. I knew of the Dead, but not really too much about them. In a way, I think that made me less intimidated to play with him. If I was in that situation now (playing with him for the first time), with all that I now know about the Dead and their music, I'd probably be terrified!!

Reid: I'm born and raised on the east coast and your a California native. Putting aside the obvious geographic convenience, do you find a predilection to find chemistry with players from the west coast?
Lebo: Culturally, there are threads to be found between you and those from the coast you were raised. Music is culture, so there is certainly cross over there. However, there is also a music culture unto itself, that can be stronger than any other cultural ties.